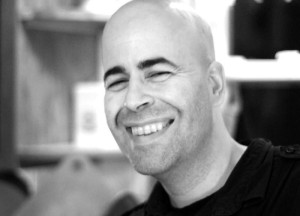 Originally from Santa Fe, New Mexico, Eric Doss has explored the arts from an early age.
Having attended public colleges, (NMSU and Cal State) and focusing on all things Theatre and Art related, Eric eventually found himself at the conservatory like setting of The College of Santa Fe in New Mexico (AKA Santa Fe University of Art & Design). With a strong interdisciplinary arts program that expanded his horizons further; he would go on to earn a degree in both Theatre and the Moving Image Arts. While in Santa Fe, he worked with such companies as New Mexico Rep, Santa Fe Stages, Santa Fe Performing Arts, Teatro Hispanidad and Shakespeare In Santa Fe.
After a brief stint in NYC upon graduation, Eric sought to gain more theatrical experience and moved to Houston, TX .There he met a group of liked minded artists and quickly became involved with their work, the experimental Mildred's Umbrella theater company. He eventually became a company member and artistic associate. In this home he got to perform, direct, and design. While in Houston he also worked with several other notable theatre Companies such as Bobbindoctrin Puppet Theatre, Theatre Lab, Stages Repertory, The Ensemble Theatre, The Houston Grand Opera and The Houston Shakespeare Festival.
Now a member of Actors Equity, he moved back to NYC in the Fall of 2008 to continue his studies and seek out new forms and collaborations. Since his arrival he has had the opportunity to work on many great projects. Among his first was re-teaming with Director/Puppeeterr Basil Twist and his band of puppeteers to work as deck chief on the off off broadway smash Aria with a Twist (featuring Joey Arias) for several months.
Among his first stage experiences in NY was workign with Frog and Peach Theatre on several shakespeare productions, (which he continues to do when given the opportunity). He soon co -founded and  served as Managing Director/Marketing of Playhouse Creatures Theatre company where he had the opportunity to act, direct and even run a few boards !. After 4 years with PCTC Eric broke off from the admin side of things to allow more time to pursue his own artistic pursuits, including new theatre forms and film collaborations.
Eric has also worked professionally in other capacities as well; from carpenter to production manager. His experience in multimedia installation and other dynamic forms such as puppetry and movement serve as a catalyst for exploration in new works.
…a delightfully energetic, direct and engaging character actor."
Edge New York
Eric Doss's hairy-eared Bottom makes a supremely elegant, fatuous ass…"
MarcelleThiebaux.com
Eric Doss is unforgettably comic.."
Show Business Weekly,
..a scene stealing Eric Doss ."
The LIbertine TalkEntertainment.com
..he does play a bad guy so good"
Adventures in the Endless Pursuit of Entertainment
Measure for Measure/ Angelo, View Article
Eric Doss was Exceptional…"
–Arts Houston Magazine, as Theo in sic
Played with sad sac perfection."
Houston Press, Long History of Neglect
…very funny.."
Houston Press, Houston Shakespeare Festival
..a solid performance.."
Houston Chronicle, Diva
..acts.. with stern conviction and precision."
Houston Chronicle, By the Bog of Cats